History ...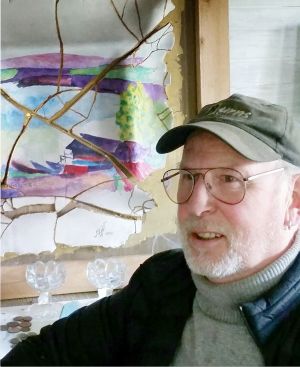 1% Studio has been the home of art and invention for 30 years, based in the Malvern Hills which have been the inspiration for the innovations, art and designs of Malcolm Victory.
I was talented in drawing as a child and attended Glasgow School of Art where I remember the vast North Lights in the roof and the freezing chill of the air in the studio in winter. I copied characters from Marvel comics, particularly the Fantastic Four, and cartoon figures like Mickey Mouse.
Later I befriended Akos Zsoter, a Hungarian-born painter who had taken the entrance exam with Hitler at the Prussian School of Art in Vienna in 1907 or 1908. Akos was my art mentor for many years. His speciality was in portraiture, and mine is as well. Owners of my portraits include Lord David Puttnam, Lady Thatcher, Sir John Geilgud, Theo Gimbel, Richard Ford and Patrick Moore OBE amongst others.
Between 1982 and 2009 I created a number of Billboard Art, Community Art murals and Pavement Art projects. The first at an advertising "super site" at the junction of Earls Court Road and Cromwell Road, and the most recent in Kidderminster. I did billboards at London's Camden Lock Market, and used pavements, advertising hoardings and purpose-built billboards to encourage people from all walks, to take part in works and develop their artistic abilities.
In my forties I suffered a creative block and produced very little art. During that time I was a director of Malvern Fringe Festival, Chairman of my Local Council and I stood for Parliament three times for the Green Party. It was only after enrolling for a degree at University College Worcester in 1999 that I became artistically productive again. I enjoyed the wider fields within Modern Art, and broadened my interests and range of media, developing a love for ceramics to balance my lifetime interest in two-dimensional work.
From 2007 to 2018 the Rotaire Dryline project occupied all my creative energies as I worked on marketing materials, adverts, social media and video, in addition to running the business and packing and shipping the product.
In 2008 I made a video for the BBC about being an inventor, and the same year I was invited to talk to Chris Evans on his Radio 2 Drive Time Show. He loved the idea and sold it to the public for me to the extent that my website crashed the first night after so many hits, and my five minutes air time kept me busy for the next 3 months.
In 2012 I was awarded the Best Product and Senior Entrepreneur Awards by the Prince's Initiative for Mature Enterprise (PRIME) and Sage One Accounts. The prestigious Award was made in the BT headquarters in London.
In 2013 the Rotaire Dryline was featured on BBC Midlands Today. I also presented the Dryline on Dragons' Den (BBC) and featured in the trailers for the new series and on Daybreak (ITV) and Chatty Man (Ch4).
Unfortunately not long after this I broke my back, and was unable to sustain the media exposure. This led to the death of the Dryline six years later.
The barriers to creativity in business are incredible; it is no wonder that the country is becoming an industrial backwater when compared to the Far East. Small industries are the backbone of our economy, but they get little real support from government, and what is given is tied to Government Agencies needs rather than the business.

My aim is to bring Art and Invention into the everyday life of Society and to break down the elitist dogmas of Modernism and the Art Market.

In my time I have worked as an artist, draughtsman and designer as well as other jobs including dustman, silk screen printer, technician, builder and decorator, and have gained numerous patents for inventions of my own and others.
In the studio...